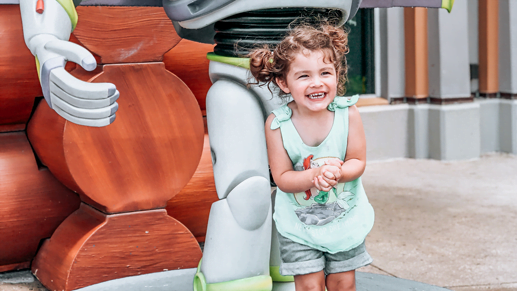 Shop Colette's Ariel tank top here.
When you think of Disney Springs at Walt Disney World, the first thing that probably comes to mind is shopping and eating. While there are so many fantastic stores (both Disney related and non-Disney) and restaurants at Disney Springs, there are also a lot of places and activities geared towards young children! Let's take a look at my favorite things to do at Disney Springs for toddlers.
Disney Springs with a Toddler
Pin Trading
Not only is pin trading a ton of fun for kids of all ages, it also can be a cheap activity to keep your toddler occupied! Buy a small lot of Disney trading pins and a lanyard for a fraction of the cost at Disney World and let your toddler trade as much as they want! The cast members working in the Disney shops will all have lanyards or pouches with pins for trade! You'll be able to browse the shops and your toddler will enjoy doing so!
Marketplace Carousel and Train Ride
There are two small rides geared for toddlers and preschoolers at Disney Springs. Both the Train Ride and the Carousel are $3 per ride or 2 rides for $5. Parents ride with their child for no additional cost. My toddler absolutely loves both of these rides so they're always a must when we visit Disney Springs!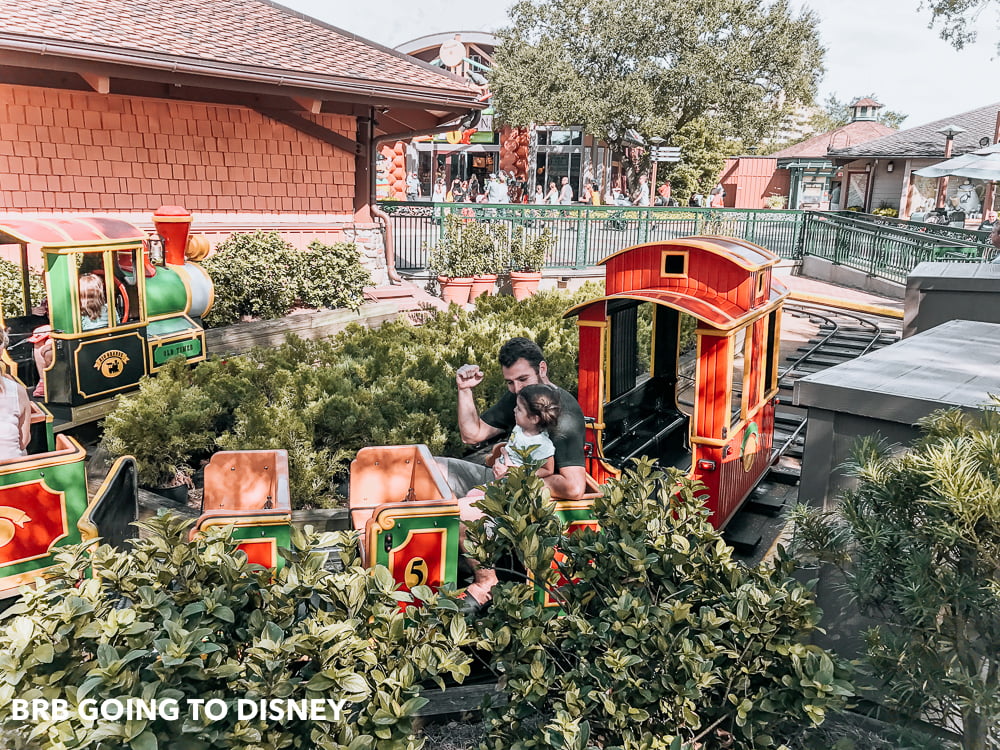 Bippidi Boppidi Boutique
If you have a special celebration or a Princess lover, then Bippidi Boppidi Boutique is a wonderful way to commemorate your vacation to Disney World! Packages at the boutique start at $65. If you're looking to create a fun experience but don't want to spend too much money, purchase a dress online and bring it with you to the boutique. Your little one will be thrilled regardless and you'll save a significant amount of money! I also want to note that anyone can visit the boutique for a free sprinkle of pixie dust in their hair (ages 3 and up)!
Splitsville Luxury Lanes
Need ideas for a rainy Disney day? Splitsville is a perfect way to pass some time if the weather is unpleasant during your vacation. In addition to bowling, there's also food, drinks, live music, and dancing! Fun for everyone!

Face Painting
If your toddler or preschooler is anything like mine, getting their face painted is the highlight of their trip to Disney World! You can find a face painting cart at Disney Springs where your little one can choose their favorite design and rock that look while you enjoy your day shopping!
T-Rex / Rainforest Cafe
While there are SO MANY restaurants to choose from at Disney Springs, if you're looking for something geared towards children, be sure to check out the T-Rex Restaurant and the Rainforest Cafe. The theming and ambiance is out of this world and sure to delight your little ones! Reservations are recommended.
Sprinkles Cupcakes ATM
Not only is a cupcake from Sprinkles at Disney Springs absolutely delicious but the act of ordering and receiving a cupcake from a pink cupcake ATM is a lot of fun for little ones! If ice cream is more your speed, head inside to grab a treat!

The Lego Store
If you have a Lego fan, you absolutely must stop at the Lego Store in Disney Springs! Not only do they have amazing lego displays but they also have hands-on play areas! These are a great spot for your kids to enjoy some shade while you take a break from the day.